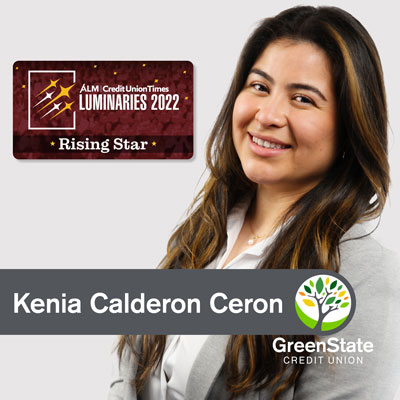 GreenState Credit Union is proud to announce that Kenia Calderon Ceron, our VP/Bilingual Business Development Director, was named a Rising Star Luminaries Finalist by the Credit Union Times!
Kenia joined GreenState in March of 2021, with responsibilities to connect and build relationships with our Latino community throughout our field of membership, as well as provide insights, guidance, and recommendations to how we as a credit union can better serve our bilingual members. As a DACA recipient, Kenia has first-hand knowledge of the challenges our immigrant and refugee populations face, as it relates to financial service access and experience.
In her time at GreenState, Kenia has developed our Emergent Bilingual Strategy (EBS), which recognizes the contributions, influences, and needs of our bilingual communities.
Our Emergent Bilingual Strategy focuses on the following:
Recruitment and retention of bilingual staff
Inclusive policies & procedures
Relevant products & services
Marketing & outreach to bilingual communities
Here are some of the programs that have been enacted under Kenia's leadership of our Emergent Bilingual Strategy:
ITIN Lending
GreenState Credit Union is proud to provide financial services to members with an ITIN (Individual Taxpayer Identification Number). Our ITIN members are those who are not eligible for a Social Security Number at this time. All credit union members, whether they open their accounts with a SSN or an ITIN, have access to the same low rates. The following products are open to members with ITINs:
Checking and Savings Accounts
Credit cards
Auto Loans
Mortgages
Personal Loans
Debt Consolidation
Citizenship Loan
GreenState Insurance Options
Translation of our Digital & Print Materials
Our website, Online Banking, and mobile app are now available in English and Spanish.
All loan, deposit, and auxiliary documents are now available in Spanish.
Video Tellers are available in Spanish.
Several marketing materials and collateral items have been translated to Spanish.
Increased our outreach to members who speak Spanish, including new mediums that are more widely used by the Latino community.
Bilingual Pay Program:
Bilingual employees can qualify to participate in GreenState's Bilingual Pay program where they get a boost to their compensation and receive recognition as a staff member able to assist those who speak additional language(s).
Internal Training & Education
Cultural nuance trainings for staff
ITIN lending training courses for lending and underwriting teams.
Recorded podcasts for GreenState staff explaining both EBS and DEI initiatives.
Not only is Kenia focused on success within GreenState, but she is also deeply involved in the community, serving on the following boards and committees:
Iowa Coalition Against Domestic Violence
S. Committee for Refugees and Immigrants Advisory Board
Iowa Latinx Project Leadership Team
City of Des Moines' Refugee and Immigrant Advisory Sub-committee
Hispanic Educational Resources Board
Kenia was also able to assist GreenState in securing many meaningful partnerships that has led us to invest in the following organizations:
Friends of the Iowa Commission of Latino Affairs - $1,600
Latino Center of Iowa - $3,500
Latinx Immigrants of Iowa - $4,500
US Committee of Refugees & Immigrants - $2,500
Iowa Wolves - $2,500
YSS (Youth & Shelter Services) - $20,000
Iowa Coalition against Domestic Violence - $135,000
Evelyn K Davis Center for Working Families - $41,500
Iowa Center for Economic Success - $55,000
As the largest credit union in Iowa, GreenState is in a unique position to lead and inspire other financial institutions to improve the well-being of all their members, while also promoting strong communities. Kenia's passion for equity has helped guide GreenState as we continue to position ourselves as a financial institution that intentionally serves all people and promotes financial well-being.